Premium Hella Xenon Projector Lamps for Motorcycles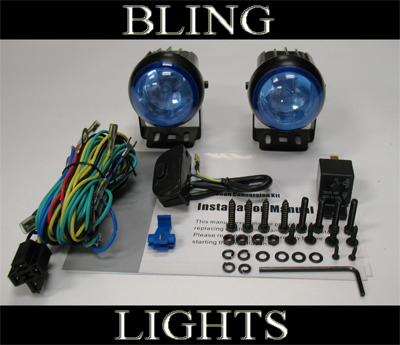 Factory driving lamps cost $338. Our genuine Hella lamps cost less, include installation directions and outperform. 90 Day Satisfaction Guarantee.
Want to brighten up the horizon? The Hella line of high performance fog and driving lights will do the trick. They offer the performance and brightness of Xenon H.I.D. bulbs and have photometrically designed hardened glass lenses that pierce through the darkness in any weather condition. Electron blue projector lens die-cast chrome metal housing 55W H3 xenon white bulbs 2.7" x 2.8" x 4" D 2 lamps, heavy-duty mounting brackets, illuminated switch, deluxe wiring harness included. German made Hella is one of the true leaders in the lighting industry.
Hella Fog Light Kit Specs:
Ø
(2) SAE Approved Hella Lamps

Ø
Photometrically Designed Hardened Glass Lenses

Ø
Alloy Metal Housings

Ø
(2) H3 - 55 Watt Xenon Halogen Hella Bulbs
Ø
Heavy-duty adjustable mounting brackets

Ø
LED Illuminated Switch and Wiring Harness Included

Ø
Warranty, Installation Directions and Free Tech Support Included

Ø
Free Authentic Blinglights hat included
---
Frequently Asked Questions
Are these fog lights original equipment manufactured? No, these fog lights are manufactured by Hella. Many of our customers are able to install our fog light kit in a period of approximately 20 minutes to an hour. More involved installations may require drilling to position the lights where you want them. This kit includes mounting brackets that mount independently of the factory mounting points. The end result will be a clean look if done with care. For those uncomfortable with the install, have the kit professionally installed at a local car stereo shop.
Where can I mount the lamps? Lamp kit includes versatile lamp mounts that can be attached to struts, fender flares, handle bars or the body of the bike.
Does your kit include everything I need? Yes, our kit includes 2 lamp enclosures, powerful H3-55 watt 4100K bulbs, fully adjustable mounts for bumper or bar, harnesses, pre-assembled wiring harness with relay and fuse, electronic switch, mounting hardware kit, installation instructions, and more.
Can I hook the lights up to my factory light switch instead of the included switch? Of course, just run the wire to the factory switch instead of the included switch. The included switch can also be substituted with other switches found at Radio Shack.
What type of bulbs come with your kit? Two powerful H3 bulbs with an output of 55 watts a piece, 110 watts total! These bulbs are designed for maximum output and durability. The bulbs generally last many years without the need for replacement. There is a good chance the bulbs will outlast the life of the vehicle. H3 replacement bulbs are a common size bulbs and can be purchased through us by clicking here or anywhere else automotive bulbs are sold.
What is the BlingLights No Fault Guarantee? BlingLights will repair, or at our option, replace this product for up to 1 year from time of purchase. The NO FAULT provision of this warranty means that regardless of how the item may have been damaged or rendered unusable (fully or partially) by the Owner of the item, BlingLights will repair or replace the item without any questions being asked. To take advantage of this provision, enclose a payment for $25.00 (U.S. dollars) with the item to cover inspection, handling, and shipping.